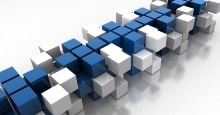 Now on SourceForge!
ArchiverFS was recently added to SourceForge, please feel free to head on over and leave a review.
ArchiverFS - Archiving Software or Archiving Solution?
Home | Product Home | Pricing | Download | Documentation | Release Notes | Customers
Software or a solution, what's the difference?
The terms 'Archiving Software' and 'Archiving Solution' are generic terms used to refer to computer software that is designed to prepare, and in some cases actually move information to long term storage. The information may take the form of emails, documents or other files stored in and\or on a range of media including networked file systems, email servers, databases, websites, etc.
They provide (either in part or whole depending on the products) the modern equivalent of the archiving functions present in paper based filing systems.
Most people use the two terms interchangably, but there is a subtle difference. The term 'Archiving Software' is normally used to refer to those tools that perform a limited set of functions, like simply wrapping up a set of files into a single compressed file. On the other hand the term 'Archiving Solution' is normally used to refer to software or software & hardware combinations that provide a way to manage the complete lifecycle of one or more types of data e.g. emails, files and folders or database records.
The different types.
These offerings can then be divided up into several categories, separated by the type of function they are intended to perform as well as the type of storage media and\or system they are intended to interact with.
Compression utilities:
These utilities tend to provide a manual interface that can be integrated into the user interface of one or more computer operating systems (normally Windows or Linux). These tools provide the end user or Systems Administrator the ability to manually compress one or more files into a single file (or a multi-part file) with varying compression ratios. These tools are used through either graphical user interfaces, shell integration or directly from the command line enabling their inclusion in command line scripting.
There have been compression tools for almost as long as there have been file systems, and there are a wealth of them available for every popular OS.
Email Archiving Products:
The vast majority of solutions for Email systems are comercial offerings hence them being refered to as 'Products'. They tend to take two forms, those that integrate closely with a specific Email platform and those that sit in the SMTP Email stream capturing mail as it flows in and out of an organisation. There are various products on the market today, with some Email and collaboration platforms even providing a degree of lifecycle management 'out of the box'.
File System Archiving:
Given the relatively high cost of most Document Management Systems per GB of storage compared to flat files and folders, most organisations still rely heavily on some form of file server with file storage presented to their network. A lot of sales material will refer to this as 'unstructured' storage but that is typically incorrect. Very few if any organisations will allow completely unstructured use of thier file system, with the vast majority implimenting a very clearly defined folder structure. File system archiving tools provide automated processes that will sort through the file system and migrate old files to lower tiered file storage e.g. lower performance but higher capacity disk arrays, LTFS (Linear Tape File System) or even cloud based bulk storage.ArchiverFS, our file server archiving solution is an example of such software.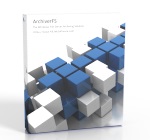 Compression Utilities.
Many Operating Systems feature some form of built in compression functionality. Microsoft Windows has provided end users with the ability to work with .zip files using a reduced set of functionality since the 'Microsoft Plus!' pack was released for Windows 98.
The .zip file format is probably the best known archive format to Windows users for this very reason. A history of the .zip format can be found at over at wikipedia.org here: https://en.wikipedia.org/wiki/Zip_(file_format). Another popular format for compressed files is the .rar format. The .rar format is similar to the .zip format but often achieves slightly better compression ratios and doesn't suffer from the 4GB limit per compressed file that .zip files suffer from.
Linux support for compressed files has centred around 'gzip' since 1992. The functionality provided by gzip is not unlike that provided by the .zip functionality in Windows. Of course being Linux there are always alternatives to choose from and the main alternative choice for Linux users has been bzip2 since 1996. There is a great article about the compression tools available for Linux here: https://www.digitalocean.com/community/tutorials/an-introduction-to-file-compression-tools-on-linux-servers
WinZip - Long standing Windows based compression tool for various Windows OS's, can work with most compression formats. Free to try, £31.14 to buy at the time of writing. Supports the encryption of compressed files with FIPS 197-certified 128- or 256-bit AES encryption.
7zip - Free open source compression tool. Works well with its native format and .zip files generated by Windows as well as .gz and .tar-gz files to enable interoperability with Linux machines, but cannot open certain types of .zip and .rar file depending on how they were encoded. Provides support for 256-bit AES encryption when compressing with the .zip format.
IZArc - Freeware compression tool that works with a range of formats, and includes a version for IOS.
WinRar - Another long standing compression utility for the Windows OS. Supports a wide range of formats, 128-bit AES encryption and is sold under a shareware licence with a single copy costing €29.95 at the time of writing.
PeaZip - This is a firm favourite amongst our staff. It is open source, supports a wide range of formats and supports both Windows and Linux.
Gzip - The go-to file compression utility for Linux. A staple in the toolbox for most Linux users.
Bzip2 - Gzip alternative on Linux. It features good compression rations whilst also being fast to compress and even faster to de-compress. The command line arguments are similar to Gzip.
Email Archiving Products.
For many years now Microsoft Exchange has dominated the business email server role. Close integration with Microsoft Office and especially Microsoft Outlook has made it the standard choice for businesses large and small. There are alternatives for those not wanting to be tied to Microsoft, like Mdaemon from Zen Software Ltd. However, given the overwhelming dominance of Microsoft Exchange Server most Email archiving tools are geared towards the Microsoft product stack with many including tight integration with Microsoft Outlook.
That said there are a whole raft of products on the market that that don't actually provide a way to end of life emails. You can just end up holding more and more items in your providers storage and paying more and more each year to the third party provider in question. If you have a product that can actually end of life exchange content when it reaches a certain age then please contact us and we will happily add a reference to your product below.
Microsoft Exchange Add-on - For years the only option for archiving the contents of an Exchange Email system was the use of a third party product. Recently Microsoft have launched their own add-on that seamlessly integrates with Exchange Server Online (Office 365). At the time of writing it costs £2.30 per user per month and gives each user 50GB of storage space.
Intradyn - A fully featured and established product for Microsoft Exchange systems. More expensive per GB that Microsoft's own option with a 500GB virtual appliance costing $4000 for 100 users and then $1000 a year in support, but it is also packed with features.
Mimecast Exchange Cloud Email Archiving - Mimecast have been around for years and they produce a range of offerings, many of which relate to Email in one way or another. They offer a cloud based product for Exchange systems and they have an excellent reputation in the industry.
Sonasoft - SonaVault from Sonasoft is another fully featured product for Exchange Servers. Not only does it include the ability to offload content to dedicated storage but it also provides tight integration with Microsoft Outlook as well as many other features.
File Server Archiving Tools.
The stark different in costs between 1TB of files held in simple network share and 1TB of files held in even the cheapest document management system means that the humble file server is going to be with us for a long time yet. The cost difference per GB between even the cheapest document management system and propper archive storage is even bigger. It is very common to see an organisation with a document management\collaboration system AND a file server. The document management systems takes care of all the valuable documentation, client correspondence, proposals and such whilst the file server is left with everything else like user profiles, departmental folders, temporary areas, etc.
Unless a product is deployed to tackle the sprawling mess that an unstructured file system can become, it will tend to just grow and grow.
Products in this category are often one of two main types, those that migrate old files to sealed proprietary storage of one form or another from which they cannot be deleted or removed and those that implement a full management lifecycle.
It is not uncommon for a product to either migrate files from an NTFS based file system into a database of some description or to store file metadata in a database. While this does provide some enhanced functionality it can massively limit scalability for technical and\or cost reasons.
ArchiverFS from MLtek - Released in 2002 ArchiverFS was designed by a Senior Infrastructure Architect to do one thing, migrate huge quantities of old files to second line storage as efficiently and cheaply as possible and then provide a way to end of life those files at a point in the future. It is hardware agnostic, it can migrate files from any UNC path to any UNC path and it is in use with a huge range of companies from all over the world.
EMC SourceOne for File Systems - DellEmc is a household name in the computer industry, with their range of Equallogic SANs being a particularly strong product set. It is no surprise then that they also offer a range of offerings that dovetail nicely with their network storage. SourceOne is the DellEMCs product and whilst not cheap it is generaly accepted to be reliable and dependable.
Mimecast Cloud Archiving - Continuing on from where the Mimecast Exchange Cloud archiving offering left off is the Mimecast Cloud file archiving product. The Mimecast Cloud product enables administrators to move huge amounts of old and unused files offsite to the cloud, thus freeing up space on internal systems where high performance is needed the most.
So, which kind do you need?
The answer to this question is simple, just like everything else in life you need the right tool for the job you want to do. Hopefully this article has helped highlight the differences between the different types of products that are available.
The right product for you will save you money and time. We suggest making a list of 5 things that are important for your business, then look for the product that meets these needs best. Is it ease of deployment? is it e-discovery? perhaps it's legal compliance?
The products above are just a selection of those on offer, there are a huge range available from a large number of vendors. Once you have your list of essential features that matter to you it shouldn't take long to find the right product for your needs.
If you would like any more information, or have any feedback please don't hesitate to contact us via Sales@MltekSoftware.com