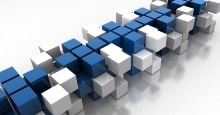 MLtek - Current And Future Products
Home | About Us | Products | Support | Contact Us | Library

Unlike almost all other archiving products, we don't try to store your files in a database. Instead we use a share that you create anywhere on your network. It is the use of NTFS from start to finish that makes our product so fast, reliable and incredibly scalable. NTFS permissions are exactly maintained on your files and folders after they have been processed (unlike most database centered products), and you get all the features you'd expect. These include shortcuts that can be left behind so that users can recall files without needing to trouble IT staff, and as we don't require a database to store information in about processed files it is extremely cost effective to deploy. You can even migrate files over a WAN to a cloud service like Azure, AWS or Google Cloud.
All of this adds up to give you massive scalability at an incredible price. Our customers come from a variety of backgrounds including everything from multi-billion dollar multi-nationals to local government departments, health authorities, educational institutions and everything in between. Not only can help you make the most of your current storage tier, but we can also help with regulatory compliance like Data Protection and even the new EU based GDPR requirements. You can find out more about ArchiverFS here.

Process Controller lets you take control of the process running on your systems. It enables you to utilize the processing priority engine already built into Windows to control how processor time is distributed amongst all running processes. Using Process Controller you can automatically set priorities for running processes and have them persist between reboots and process restarts, thus making systems far more responsive to the end user. An absolutely invaluable tool in Terminal Server and Citrix environments.
IP Spider
IP Spider is our new mass network route monitoring product. It does something completely unique in the world of monitoring. Instead of focusing on endpoints, it is designed to monitor the network routes between endpoints.
You can add in hundreds of IP addresses and IP Spider will watch over the routes to and from them, then it will notify you when connectivity is lost and diagnose exactly where the problem is. IP Spider uses a proprietary learning engine to recognize good vs bad routes and diagnose exactly where connectivity has been lost. This includes lost connectivity on the internet, down VPN tunnels, etc.
IP Spider is currently in development and we will soon be looking for Beta sites. If you would like to take part please drop an email to us at Sales@MLtekSoftware.com. Work is actively underway on IP Spider, we have already developed the monitoring engine and are currently working on the interface and reporting functions.
CI Search
Back in the early 2000's we developed a content indexing search product called CI Search. It harnessed Microsofts Indexing Service and ran on a single central server, reaching out to index all of the content on one or more file servers. It provided end users with a single web based form they could use to perform searches of the entire file system in fractions of a second.
A few years ago we decided to stop developing the product as free options had become available that provided similar functionality. We have recently taken another look at the sector and decided that it's time we bought CI Search back, but this time with support for MS Exchange server as well as file systems.
Work will commence again on CISearch towards the end of 2019, and we hope to have a beta release ready by Summer 2020.