Get In Touch
Why not join us on Twitter or Facebook? We only post about useful things like new releases, and unlike some others we promise we won't spam you with messages!
We have recently signed up to CrowdReviews.com and we would really appreciate it if you could take a few minutes to leave us some feedback. All reviews are visible to everyone, and your review will be given particular weight if you can verify it with your LinkedIn profile.
ArchiverFS - Archiving Solution for SMB Shares and Windows File Servers
Product Home | Pricing | Download | Documentation | Release Notes | Existing Customers
Archive files to any device with our software based file server archiving solution that doesn't try to store files or metadata in a database. Massive scalability, low TCO and with full support for DFS, replication, SDS, de-duplication and compression.
ArchiverFS stands unique amongst data archiving software for network file systems, SMB shares and Windows file servers. In that it doesn't try to be some kind of pseudo-document management system. At no point do we try to store files, pointers to files or file metadata in a database of any kind as part of the archiving or retrieval process (if you want to enable detailed reporting and collect this information then you can, but that's entirely up to you).
This approach makes ArchiverFS incredibly scalable, and hugely cost effective. It provides users with the most cost efficient solution possible this side of open source software, being able to migrate massive amounts of files over the network to second tier storage like a NAS or SAN while requiring only a tiny footprint on the host system. It enables you to migrate, store and then end of life old files in a controlled and cost effective manner thereby helping tackle challenges like GDPR and Data Protection compliance.
What's more, unlike other solutions only functionality that is already included natively in the Windows operating system is used. ArchiverFS don't require the deployment of any agents to your workstations or servers.
For a simple overview of ArchiverFS and how it works why not check out the How it Works page?
Would you like to move all your old data to a spare NAS or last Generation SAN to save space on your first tier storage??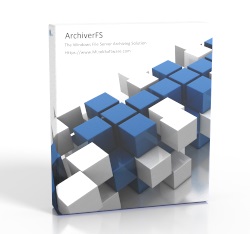 Are you looking at implementing a full Hierarchical Storage Management system, but feel that the cost of the storage and supporting software is too great??
Would you like to leverage the cloud to tackle your data storage issues??
Do you need a file archiving product to help you meet the challenges of Data Protection regulations or the new GDPR requirements? Are you wondering how you will apply the retention obligations to the TBs of unstructured data on your file servers?
Hardware agnostic: ArchiverFS lets you migrate old files from any UNC path to any UNC path over the network using a range of criteria including file age, size and type. The target can be a VM, NAS device, CIFS share, iSCSI volume or even cloud storage on Amazon AWS, Azure or Google Cloud. As long as the source and target volumes are formatted with NTFS and are shared to the network with SMB then content can be managed and migrated between them.
NTFS flat files and folders are used from start to finish: At no point are any files (or even file metadata) stored in a database or proprietary storage mechanism. This is crucial as it provides massive scalability and makes our product incredibly efficient. The largest file system currently handled stands at 3.4 PetaBytes in size, and this is done using a single Datacenter edition install on a small VM with just 4 vCPUs and 6GB of RAM.
'Direct File Access is used to provide users instant access to content: Unlike other solutions, when a user clicks on a link that was left behind in place of a file all of the IO goes straight from the users workstation directly to the file. There are no agents or other components in the way meaning that users don't have to sit around waiting for a file to be returned to the live file system before they can access it. Any files that need to be returned back to the live system are returned by the daily maintenance job that runs out of hours. All of the information regarding where each file has been migrated from and too is maintained in the file system itself through the use of directory structures and file properties.
Multiple Link Types: Several types of stubs are available to choose from which can be left behind in place of files when they are moved, including completely seamless links that behave exactly like the origional file. In addition both folder and file level shortcuts which are more like traditional Windows shortcuts can be used, and these offer the advantage of increased compatability and can even be accessed by Apple Macs using an add-in like 'Win Shortcutter'.
Unique 3 tier storage structure: Including Live, migrated and Graveyard stages. This unique feature enables ArchiverFS to create a true Hierachical Storage Management system and archive your files for a fraction of the cost of a traditional software.
In addition to the key features above, you also get...
Installation that is supported on all versions of Windows from 2003 Server on, including Windows Storage Server and Server 2016.
Seamless compatability with Windows compression, Windows Server de-duplication, Microsoft Search Server, DFS (Distributed File System), SAN based replication and SDS.
Established product with a broad customer base. Our solution is in use with a wide range of organisations from multi-billion dollar global companies to military contractors, law enforcement departments, government institutions, universities and everything in between in over 40 countries.
File permissions and attributes that are 100% preserved at all times thanks to the use of pure NTFS for second line file storage.
Unique daily Maintenance Job that returns recently used files back to the live file system and exactly replicates file and folder permissions from the live system to the second line storage.
Full unicode support for most of the file system character sets in the world including English, Chinese, Arabic, Hindi and many more.
Both Perpetual and subscription licences are available: Subscription licences are available for as little as just over $1400 (approx £1050) for 2 TB of file processing, and that is for each TB migrated from the live file system to second line storage. We don't charge based on the ammount of old data that is sat idle in second line storage unlike other hierarchical storage management solutions, just the action of migrating the files to it. After all it is your storage, why should you pay year on year just to have files sat on it?
Deployment enables the migration of an unlimited number of old files from first line storage to any UNC path (NAS, SAN, On-premise, Cloud, etc.) whilst maintaining each files NTFS permissions, properties and file dates in a seamless and efficient manner. You get lots of options and the flexibility to process your files in whichever way suits you, and not some company who is trying to get you to sign up for a five or six figure sum year on year just to hold your old data for you!
Why migrate your old files to second tier storage?
If you are reading this then you will probably recognise one or more of the items below, but have you considered all the benefits to deploying a file system archiving solution to tackle your old content?
Slash restore times in the event of a disaster: What if you could just restore the files that people actually needed first in the event of a disaster, and worry about the rest later? We will enable you to completely separate the first and second tier storage, thus making this approach possible. What's more, with us you won't need to re-install any agents or client components to get back up and running, thus making recovery in the event of a disaster much faster.
Free up space on your expensive first tier storage: The less data you try to store on your first tier storage the longer it will last. We have all been there at one time or another, you specify a new storage system by predicting the amount of space you'll need in a few years time, and then you add something from 20% to 100% just to be sure. A year down the line you find that the data has grown far faster than anyone expected and you have to start looking at buying extra spindles for your SAN, or attaching extra shelves. We will help you tame that growth thus extending the life of your systems.
Ensure regulatory compliance: In Europe we have the GDPR regulations, and most other countries have something similar. These regulations almost invariably require companies to consider how long they can retain data for. Meeting these requirements is extremely challenging for many companies, especially if they have a lot of unstructured data. We will enable you to specify how long you want to keep file system data for before it is disposed of.
Cut the amount you spend on backups and other services: Old data doesn't change much. Yet every time you do a full backup of your systems you will be backing up these static files. With your old files migrated off to second line storage you can back them up less often, thereby saving on backup costs.
What next?
Feel free to drop us an email if you have any questions, we are here to help.
When you download a copy it comes with a free licence that lets you create up to 5 scheduled jobs and there is no limit on the total number or size of files each job can process. Each time a job runs it will process up to 100 files, which is perfect for smaller deployments or those looking to take it for a test drive.